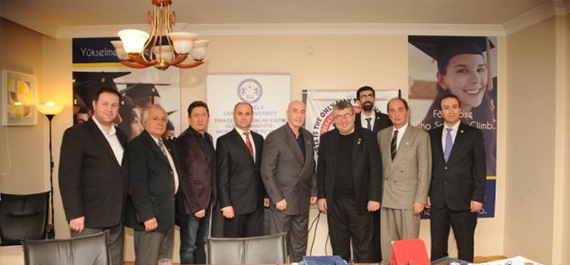 TURKISH GREEK EDUCATION AND SCIENCE PEOPLE MEET IN COOPERATION WITH BRUSSELS CAPITAL UNIVERSITY
Turkish Greek Science and Education people met in Istanbul for friendship.
The close neighbors of Turkey and Greece on both sides of the Aegean Sea came together at the event organized by Brussels Capital University and signed a mutual cooperation protocol. The team led by Dr. Dimitrios Dimitriou and Dr. John Lemodetis, lecturers of Brussels Capital University Turkey and Greece representations, will be in Turkey on 24/25 February. They came to Turkey for a series of events and cooperation meetings. The meetings are very important in terms of reinforcing the Turkish-Greek friendship. Halil Tabur, one of the directors of Brussels Capital University Turkey office, was also welcomed by lecturers Tanju Ekinci, Kaya Muzaffer Ilıcak and Munir Çeliktutanin. Guests were informed about the work by visiting historical and touristic places in Istanbul. Afterwards, Brussels Capital University Istanbul office and educational buildings were visited and they were informed about the studies. Capital University Turk and Greek lecturers shared their experience and knowledge with each other about online education projects that started from local to global education. Dr. Dimitrios Dimiriou, speaking about the Greek part of mutual cooperation, stated that Brussels Capital University education in Greece was given by rich academic staff. He said he was recognized by Dr. Dimitriou stated that psychology master's programs attract a lot of attention in their country and that they will give a part of their master's education as an organ together with professional associations.