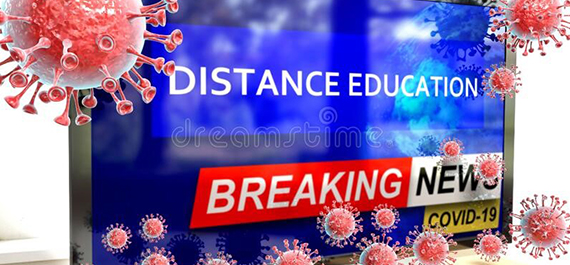 5 WAYS BUSINESS SCHOOLS CAN DEMONSTRATE VALUE DURING COVID-19
In a climate that has driven many people to seek out new skills and renewed purpose, business schools can show how they are innovating to meet demands.
Where there is challenge, there is opportunity. That's something every MBA student learns at business school.
The coronavirus pandemic has forced business schools to adapt and pivot their offerings in a more extreme way than they would ever have expected, closing campuses and moving face-to-face learning online.
However, the demand for graduate management education remains. While candidates may delay their plans due to COVID-19, data from the Graduate Management Admission Council (GMAC) shows that 95 percent of candidates still intend to go to business school.
In a time of crisis, professionals look to business schools as a place of refuge and renewal—where they can upskill, build their networks, and explore their career options—before re-entering the job market with a more advanced profile.
For many schools, recruiting the best candidates remains just as competitive as before the pandemic. In a challenging situation, schools can demonstrate their value in new and impactful ways.
1. Online Learning
Schools have learned lessons from the switch to online delivery, and many are planning hybrid learning models—part online, part offline—for the upcoming semester. While adoption of online teaching was relatively slow before the pandemic, schools are now better situated to offer more flexible, more affordable program options, enabling them to recruit candidates to fill their classes.
Boston University's Questrom School of Business, for example, recruited more than double the students it expected to for the first cohort of its Online MBA. Questrom partnered with online learning platform edX to launch its new, fully online MBA, which can be completed in just two years part time.
The University of Illinois's Gies College of Business, after having shifted its residential full-time MBA completely online last year (calling it iMBA), recently launched a new online Master of Science in Management degree (iMSM) in partnership with Coursera.
Through short online courses and MOOCs, schools can promote their expertise and reach new candidates globally. After the coronavirus outbreak, Wharton launched an online course that explains the impact and implications of the pandemic and teaches students how to deal with unexpected geopolitical challenges.
While there's still a strong demand for the immersive campus experience offered by full-time programs, people are now more accustomed to working online, and COVID-19 is likely to accelerate already increasing interest in more flexible programs.
2. Virtual Internships
Employers value candidates with professional experience that reflects the real-world working environment. Right now, that reality is online work.
Introducing virtual internships for learners removes geographic barriers, as interns can work for companies all over the world, and widens employment opportunities and the international mobility of students after graduation.
At Cranfield School of Management in the U.K., Management MSc students who are enrolled in internships are expected to dedicate their thesis––which makes up 40 percent of their overall grade––to a project they undertake at the company they intern for.
The school's summer internships took place virtually this year. Despite the significant shift in format, demand for internships from students and from employers seeking remote interns has not been impacted, with many students interning at online retailers and tech startups.
The virtual internship model benefits companies, too, which have a wider pool of talent to choose from and don't have to factor in things like office space.
3. Community
The pandemic provides an opportunity for schools to strengthen ties with the local community through social impact initiatives.
London Business School's Small Business Initiative, for example, matches student volunteers with local SMEs to help them adapt to the changing market conditions, while the LBS COVID-19 Volunteer Group organizes student volunteers at local foodbanks and homeless shelters to help those most affected by COVID-19.
At Nyenrode Business Universiteit in the Netherlands, students have set up a "pay what you can" consulting service to help Dutch startups navigating the impact of COVID-19.
In Philadelphia, a group of Wharton students helped Philadelphia Zoo introduce digital marketing strategies and pivot its focus to virtual engagement after closing its doors to the public during lockdown.
These community initiatives are especially important right now, as international travel restrictions are setting student recruitment on a path to become more localized.
4. Content Marketing
It's make-or-break time for brands. How brands act during a time of crisis will be remembered. Business schools need to effectively promote themselves to keep their brands top of mind for prospective learners.
Content marketing is an impactful way to showcase a business school's positive actions during the pandemic, engage target audiences, and build and define its brand.
By using content marketing, schools can connect their brands with the key themes they want to promote to candidates—innovation, social impact, and community, for example—rather than with the potential impact of COVID-19.
As well as written and video content, webinars are a great way to promote brand values. In the months following the pandemic outbreak, business schools began offering webinars to the broader community on how to cope with COVID-19 and its effects.
Schools can also directly target candidates through webinar topics like applying to business school during the pandemic and the value of a business degree in a time of economic upheaval.
5. Admissions
Business schools have added flexibility to their admissions processes in recent months by extending deadlines, introducing rolling admissions, conducting interviews online, and offering test score waivers.
Rotterdam School of Management in the Netherlands offered GMAT and GRE waivers to candidates with outstanding undergraduate GPAs and to PhD-holders. The school also accepted test scores from two Harvard online courses—Mathematics for Management and Quantitative Methods—instead of the GMAT or GRE.
In the U.S., Emory University's Goizueta Business School waived application fees for its 2020 MBA application cycle following the coronavirus outbreak.
Now may be the time to rethink the traditional admissions process to widen access to a larger, more diverse pool of candidates as Generation Z—people born in the mid-1990s to 2010—are entering the graduate business school pipeline.
Gen Zs make up around 30 percent of the global population. They are tech-savvy, purpose-driven, and ready to create change in their quest for greater diversity and inclusion.
By acting now to adjust their offerings, promote themselves, and engage with new generations of candidates, business schools can take advantage of the opportunities the COVID-19 crisis presents.